Protecting safe and secure life of the people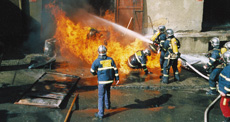 Concerning disaster prevention operations in our country, the social concern is on the rise in the area of disaster prevention and crisis management. That includes preparedness for terrorism and specific disasters, in addition to large-scale natural disasters such as earthquakes, floods, tsunami and also large-scale industrial disasters such as fires at petrochemical complexes and factories. The government as well as public bodies have also reinforced measures and policies to prevent disasters. The role of disaster prevention activities "protecting safe and secure life of the people" and "protecting properties" has become more and more important.
In order to respond to such demand of our times, our group is striving to establish comprehensive and highly specialized business for disaster and crisis management. We will enhance our traditional activities involving fire fighting, rescue and emergency care. At the same time, we will focus on intensifying, enhancing and expanding comprehensive and highly specialized disaster and crisis management business that can respond to upgraded equipment, hazardous material handling, crisis management, etc., to protect against increasingly complex and large-scale disasters and social risks.